I'm Jayce. I'm a twenty-one year old transgender male (they/them or he/him) gray-aromantic loser from Pennsylvania, and I'm the self-proclaimed head of this place. I'm an

INFJ,

, and I much prefer video games over being around large groups of people. I also like Pokémon, My Little Pony, and Mass Effect. Garrus Vakarian and Cloud Strife are my favorite characters. I'm an admin on

Warriors Wiki

, and if you really don't know me, chances are you've lived under a rock for the past few years.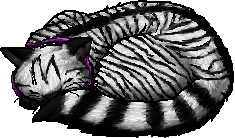 Dreamcatcher, or Dreamstar, is an elegant silver-gray and black tabby she-cat with blue-ish green eyes. Her fur is fluffy, ragged, and very unkempt. Her paws, tail-tip, muzzle, ears, and underbelly are black, and she wears a purple ribbon around her neck.
Spider is a dark brown tabby tom with a scar on his back.