Twilight Series

Number of Books: 6

Series Status: Incomplete

Allegiances: Coming soon

Story Spellcheckers: None

Goldenflower is Nightfern's best friend. She's brave, beautiful and smart- the complete package. But she, like Snowsong, has a secret.

Pantherkit is the oldest kit in the nursery- brave and bold with a big ego. He's always ready for adventure. And mischief. But ever since the rouges had taken him, he's been... different. And Adderkit, the lonely, angry, conflicted son of Goldenflower's, doomed to destory ThunderClan with the ominous prophecy. He'll do anything to take his rightful place as leader under the watch of the evil leader Hawkstar . . . anything.

This series takes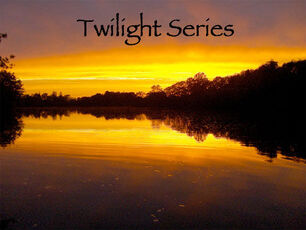 place by the lake in Warriors. This territory is a bit different, with camps being like the old ones while having a lake, streams, and mountain view. This series is combined with the Moonlight Series. The cat's POV in the series vary.




To see Ottersplash's/Nightfern's ThunderClan Alliances, click here.