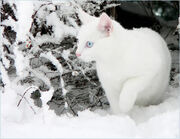 Hello all warrior fans!!! On hatena I'm in Prickle Clan, warriorcats.com I'm in Thunder Clan, here..... well, first I'll have to explore this website! I've created a cat named SnowFur, white fur, peircing blue eyes, very pretty she-cat...

She's a mentor too! Um.... that's all for now I guess....Snow Star 10:43, July 29, 2011 (UTC) Sara
Ad blocker interference detected!
Wikia is a free-to-use site that makes money from advertising. We have a modified experience for viewers using ad blockers

Wikia is not accessible if you've made further modifications. Remove the custom ad blocker rule(s) and the page will load as expected.