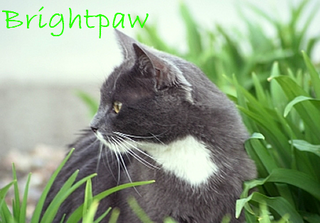 Created by: Silver

Song: Hanamori No Oka
Artist: fictionjunction (Kaori Oda)
Composed by: Yuki Kajiura
Note: Creekpaw is recalling the times she used to spend with her deceased littermate, Brightpaw. This song is in chinese.
Characters: Creekpaw and Brightpaw from The Day the Earth Went Cold
Bold and Italics = Creekpaw's thoughts on Brightpaw
Italics = Lyrics
----------------------------------------------------------------------------------------------------------------------------------------------------------------
His soft amber eyes always looking down on me, protecting me.
Oka wo somete shirio
hana ga
sakikokuro natsu ni wa
Anata to ita kono hibi wo
omoidasu deshou
Sore wa temeto kanashii
kedo
kirei na hitotoki de
ikiteru yorokobi no
subete wo shitta
His white pelt splashed with gray patches, blowing in the wind.
Saigo no hikari wo oshimu
youni
kureyuku daichi ga
yasashii koe de
eien wo utaidasu made
Namino iwazu chitteitta
shizuka na hana no you ni
mayoi no nai tsuyosa ga
watashi ni arimasu ka
Brightpaw would always look after me. He was like my shadow. He followed me everywhere, making sure I wasn't hurt.
Sore wa totemo chiisa na
koto
tatoeba donna toki mo
hohoemi tayasanai
yuuki yo motetera
Anata no koiku wo mune no
naka de
Hokokeru watashi de irareru you
ni
Yasashisa wo kata rimashou
Karenai namida no umi kara
He'd give his life for me, but then he died. Not for me. He died of greencough.
[Nevr leave me crying alone in
the dark
I'll be there to find you in silent
pain
Only you are crying alone in the
dark
I'll be there to find you in silent pain]
[Kiss me and believe me in love
or pain
no I'll never lose my whole love
for you
Kiss me and we'll find the way
into the light
The lights are here]
His pain is all over now, though. He's at peace with my mother. Happy and in peace.
Oka wo umeta shiroi yuki ga
toketeyuka daichi ni
Nondomo mata hanabira wa
Kaerizaku deshou
Ad blocker interference detected!
Wikia is a free-to-use site that makes money from advertising. We have a modified experience for viewers using ad blockers

Wikia is not accessible if you've made further modifications. Remove the custom ad blocker rule(s) and the page will load as expected.